Our Services
Notting Hill is a popular area of London and it's little wonder that so many businesses and families are looking to move here. There is also a large tenant and student population, and quite a few people will be moving in and out of accommodation in the region. For the best removal services available in Notting Hill, contact Notting Hill Removals – our company's removal services are personal, efficient and flexible and we have a goal of taking the stress and hassle away from our customers so that they can enjoy their move! For information about our services and for prices, read on or call us on 020 8746 9658.

Quite a few of our customers have difficulty finding the time to arrange and plan everything for their move, and some people just don't know where to start when it comes to house or office moves. If this applies to you, take a look at our online moving checklist which should give you some useful pointers and help you focus on what to do next. If you don't have a lot of time, or capacity to prepare for moving day then don't worry – our service now includes help with packing and we can provide a full packing service on or before the day of your move, which will save you a lot of time and bother!

Our movers will come to your home or business premises complete with boxes, tape, tissue paper, wrapping and we can also bring furniture covers and temporary wardrobes. The delivery lorries we deploy are always clean and tidy and mats and carpets are laid to cushion furniture items that are loaded into them. Our handy movers are expertly trained when it comes to stacking and loading the vehicles sensibly, ensuring minimal risk of breakages or spillage whilst on the way to your new home or office. We are also very cautious when carrying any of your most fragile or expensive possessions.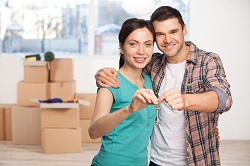 If your place has narrow doorways, we can usually carefully manoeuvre the bulkiest items through safely but if there is a problem, our workers can capably disassemble and then reassemble furniture. Remember that there are no time bars on when you want to move as far as we are concerned – we are available throughout the day and night and our workers can come to you on weekends and during holiday periods.

Our service is available throughout Notting Hill but we can move you from or to any destination in the UK, and can move you abroad. Some people in the process of moving find it difficult to coordinate their moving dates and have a period of overlap with nowhere to store their belongings. If that is a problem you are facing, we have the solution - our safe storage facility is available for any period of time. Our storage units are secure and come fully insured. Our company also offers a man with a van to help our customers complete furniture store deliveries, and transport your belongings to and from storage units.

If you are preparing for a move and want to experience the most efficient, professional and helpful movers London has to offer, contact Notting Hill Removals on 020 8746 9658 for a free, no-obligation quote which is inclusive of the cost of an insurance policy - another job we will do on your behalf!